Weather and Clothing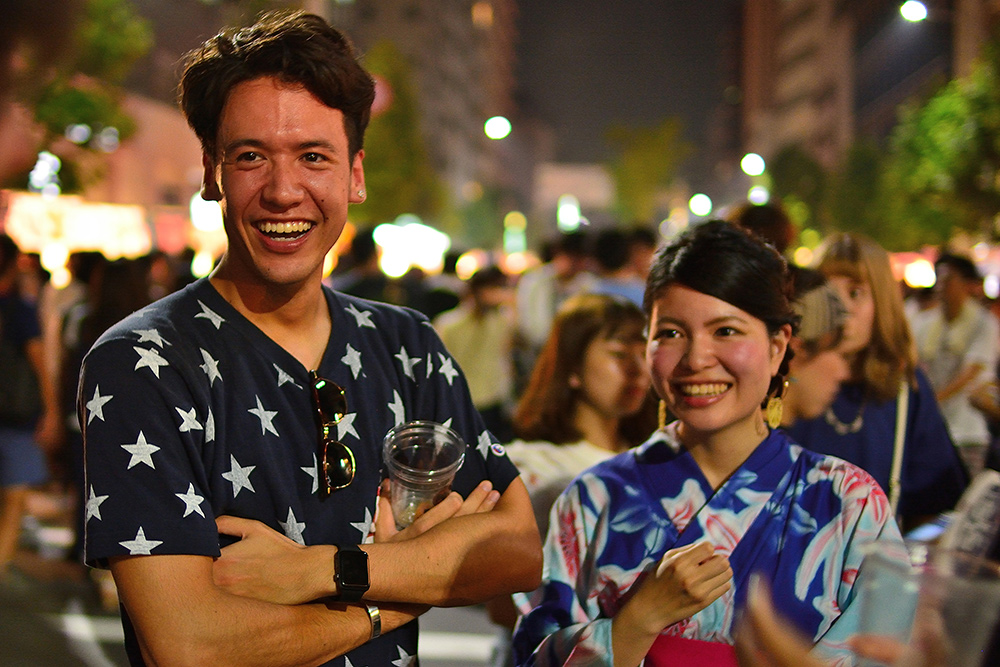 Weather and Clothing
Kyoto has four distinct seasons, each with very different conditions. In spring, people go out to see the cherry blossoms; in fall, the colorful leaves; and an outing in kimono can be enjoyed in either summer or winter. Preparing the right clothes for each season is crucial before you head out on your trip. Read on to find out more about Kyoto's climate, the best clothes and other items to bring with you during each season, and even how to prepare for local events and dressing up in kimono!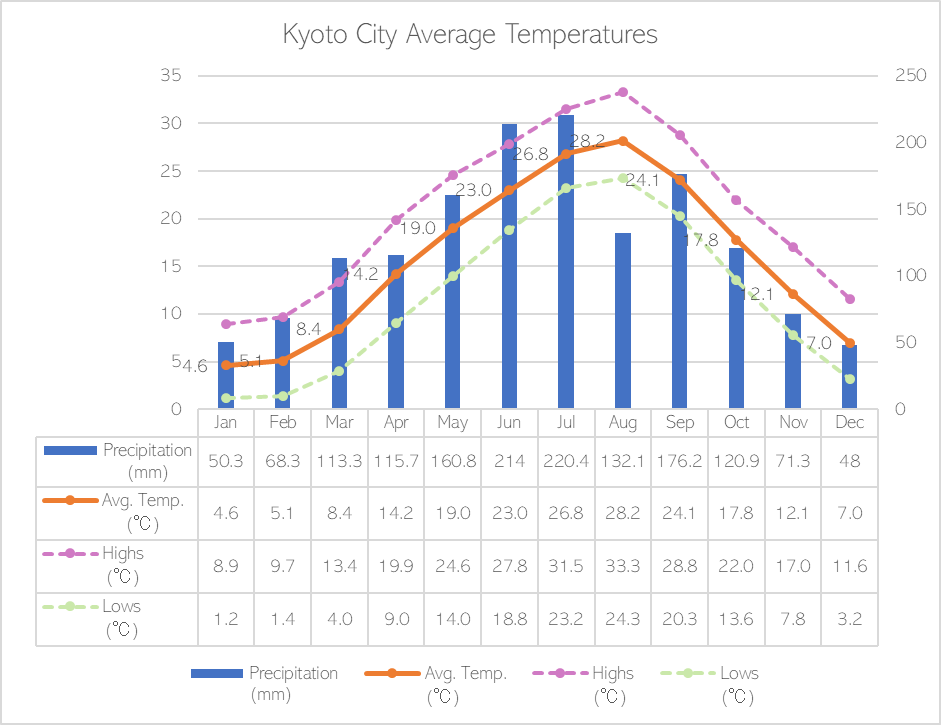 Kyoto is located in a basin, with mountains on three sides, which gives it the particular quality of having very hot summers, and very chilly winters. Even given the same temperature, that temperature may feel different from season to season, based on a variety of factors, like humidity, wind, and atmospheric conditions.
Kyoto is the coldest from January to February, and while it's possible that snow may fall during this time, it's very rare for snow to pile up on the ground.
Some of Kyoto's most famous
events
, like the Gion Matsuri Festival, and the Gozan-no-Okuribi Ritual Fires are put on in the summertime, but summer in Kyoto also brings with it high temperatures and high humidity, so be sure to drink enough water during this season!
So, what should you wear in each season in Kyoto?
Spring: Temperatures and Clothes to Wear in Kyoto in March, April, and May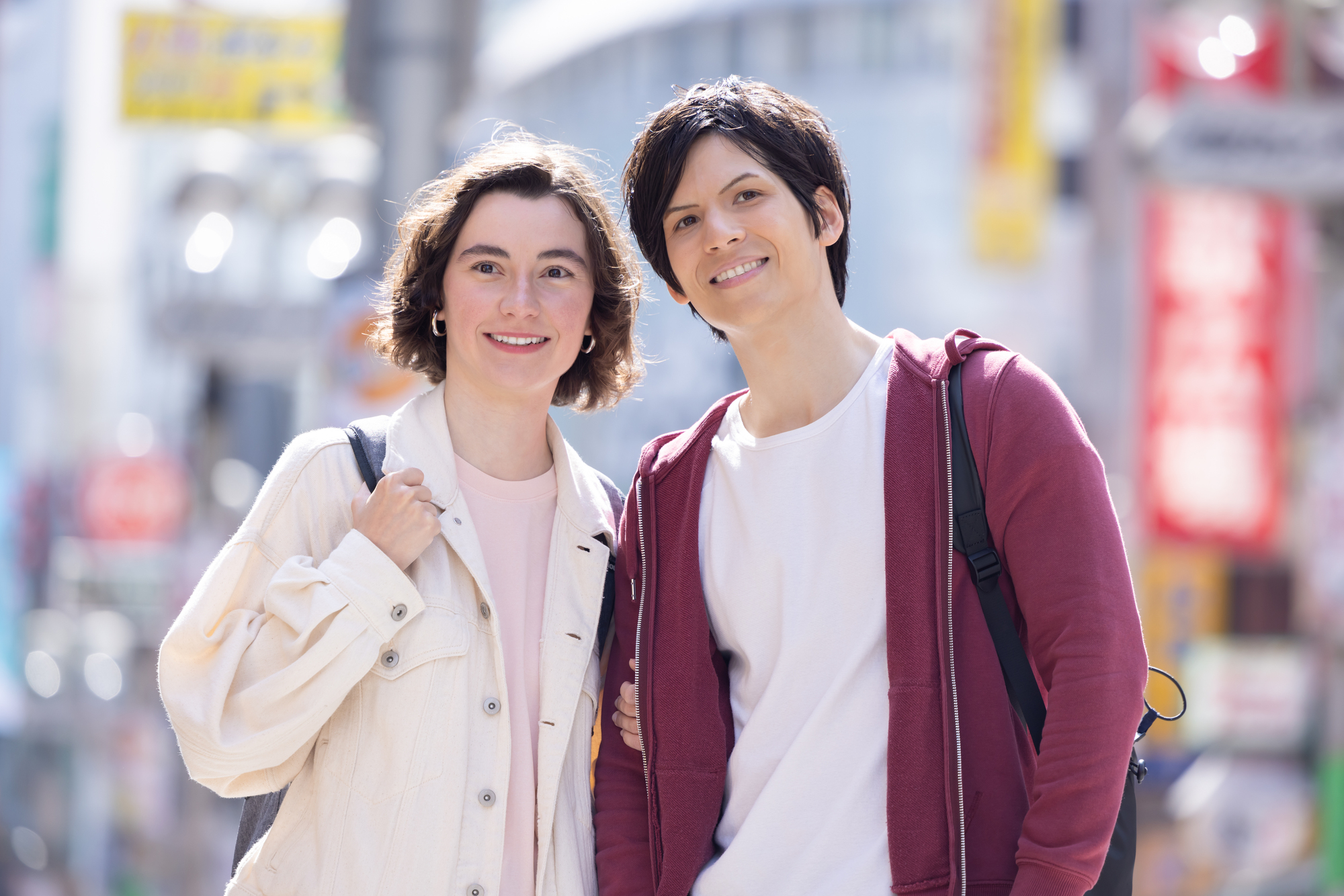 March: A coat with some thickness, a sweater, some kind of warm under layer, and thick pants, or a skirt with warm tights.

April & May: A jacket that's easy to carry around, a sweater or long-sleeved top, and pants or a skirt with tights.

Other items to bring with you: A thin wrap or shawl, and hand warmers are recommended for the mornings and evenings for people who get easily chilled.
Summer: Temperatures and Clothes to Wear in Kyoto in June, July, and August
Summer in Kyoto brings with it many traditions and festivals that have been held since long ago. More recently, days that reach highs of over 35 degrees Celsius (95 degrees Fahrenheit) have become more common, making breathable clothing the best option for this extreme heat. Be careful, though: summer in Kyoto is also prone to unexpected downpours!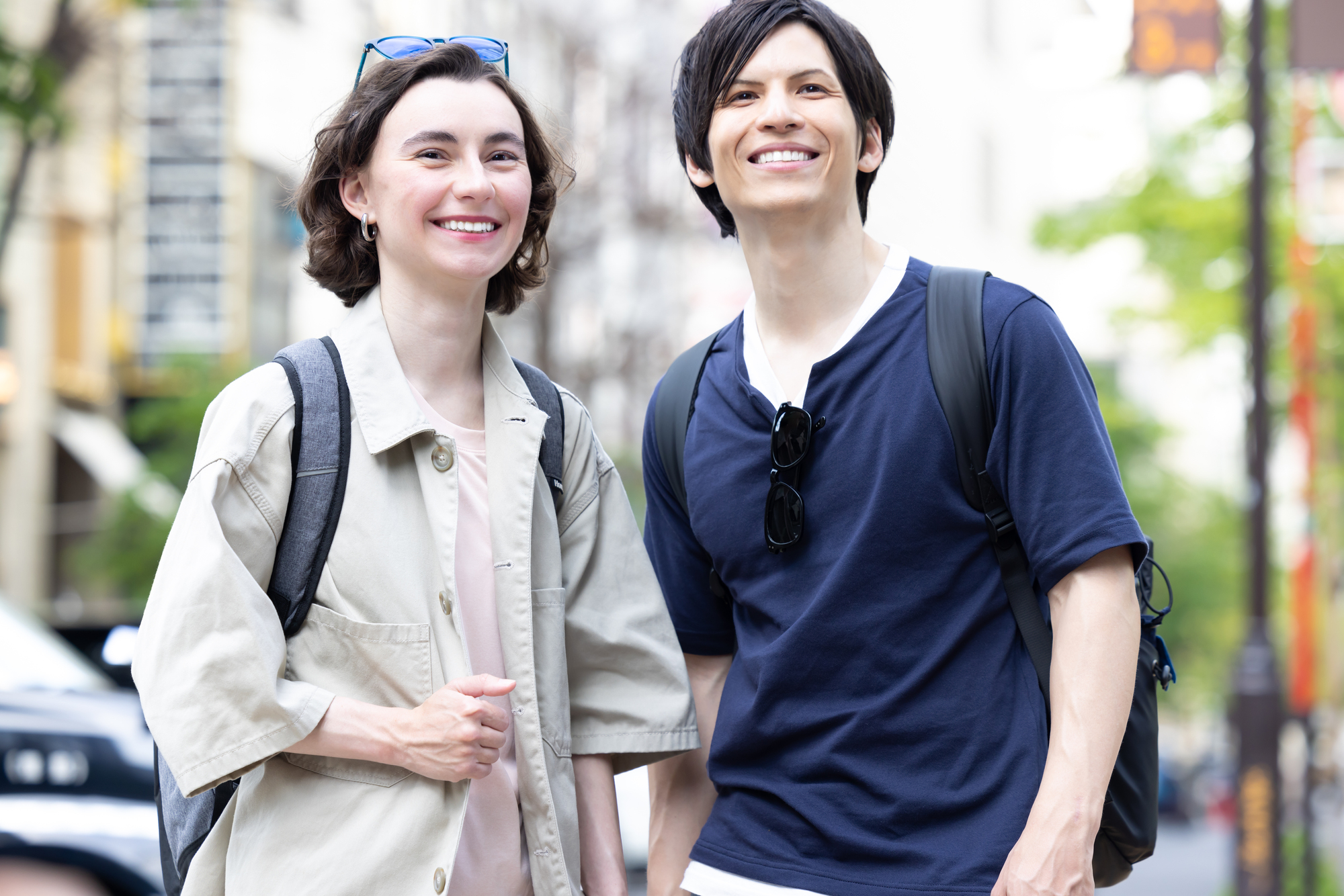 What to wear during summer in Kyoto
In summer, it's best to wear breathable clothing, like thin short-sleeved tops, or dresses for women. Please be careful to wear a hat or carry a parasol to protect yourself from UV rays when you head out. You may feel surprisingly chilly when you're inside an air-conditioned shop, train, or bus, etc., so it may also be a good idea to bring a cover-up with you.

Other items to bring with you: Paper fan, parasol, water, and sunscreen
Autumn: Temperatures and Clothes to Wear in Kyoto in September, October, and November
Just as with spring, autumn in Kyoto is characterized by chilly mornings and nights. Temperatures are warm during the day, but drop suddenly at night, and as the air gets drier with the approach of winter, it's important to stay hydrated. Along with this temperature change, autumn in Kyoto means seasonal activities and outings to view the colorful fall leaves!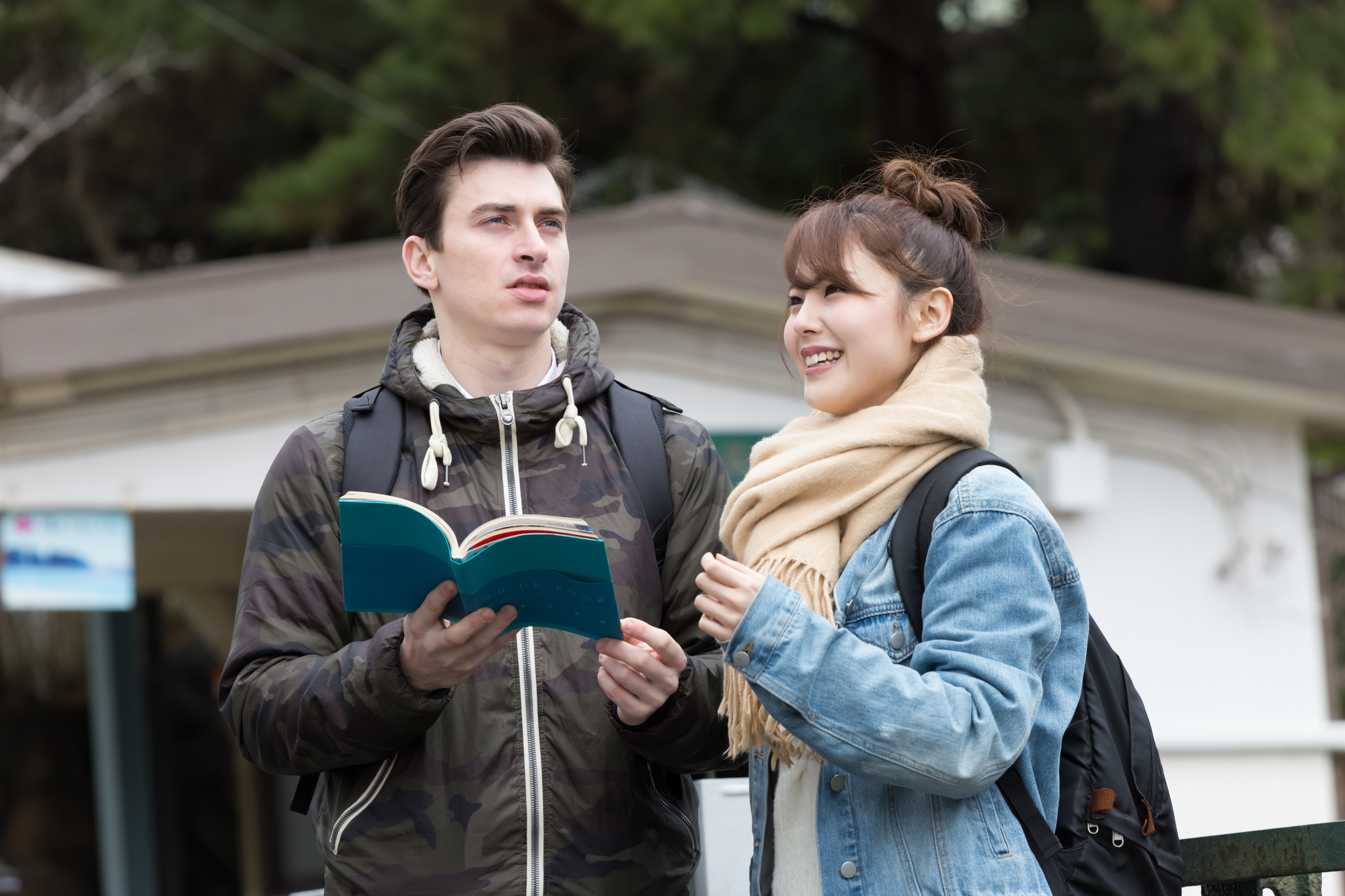 What to wear during autumn in Kyoto
As Kyoto gets chillier in autumn, it's best to wear long sleeves and pants, and you'll need a jacket or sweater for the mornings or nights. If you wear a skirt, you'll probably want to wear stockings or tights for warmth. Prepare an outfit with layers that's easily adaptable if the weather should change.

Other items to bring with you: A scarf or shawl, and water
Winter: Temperatures and Clothes to Wear in Kyoto in December, January, and February
As winter begins, the cold will really begin to set in, with an average temperature of around 7℃ (around 45 F) in December, and an average temperature of around 5℃ (around 41 F) in January and February. Winter in Kyoto sees many days with clear skies, and because it's uncommon to see rain or snow, the air may become quite dry.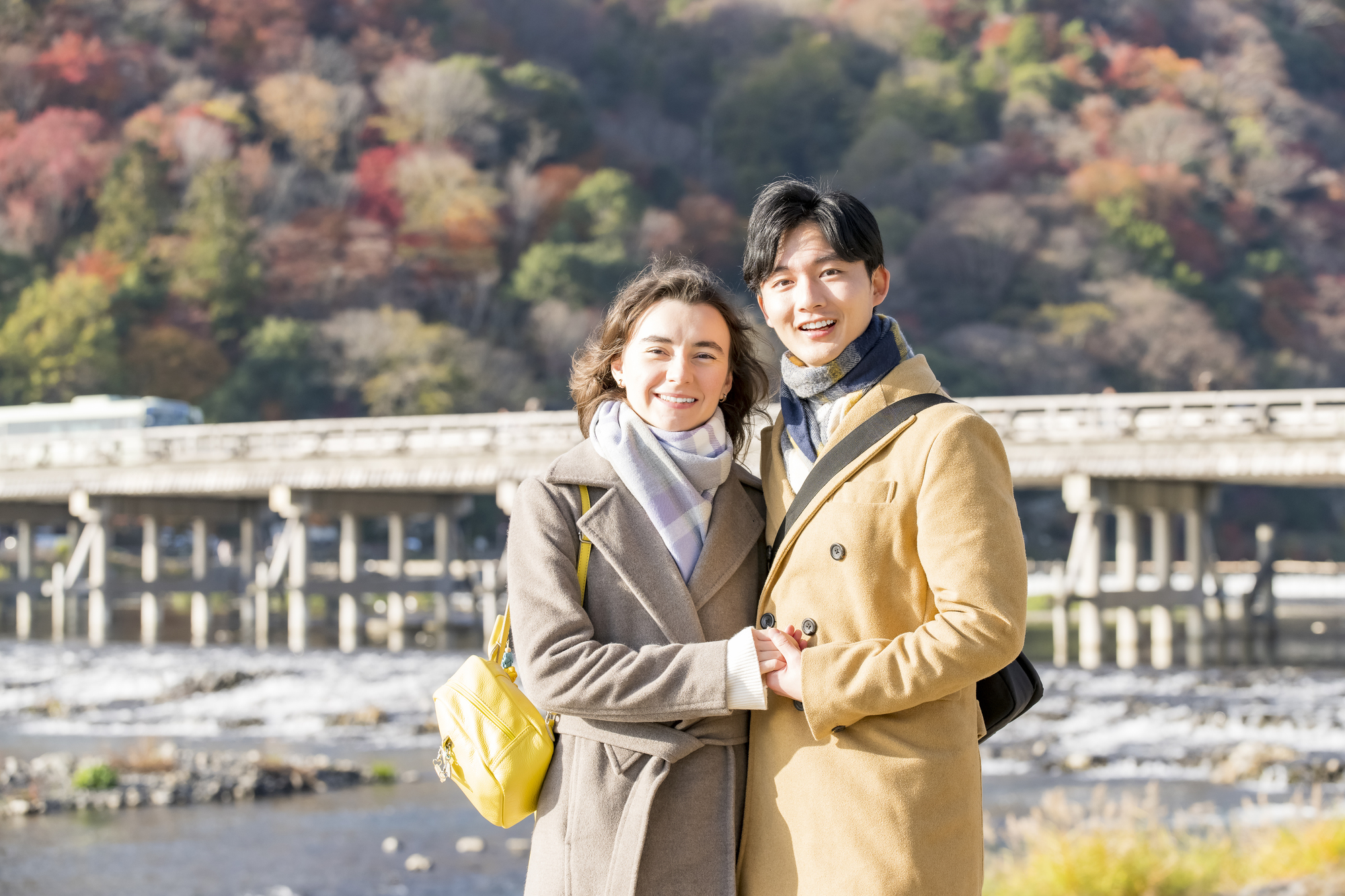 What to wear during winter in Kyoto
If you visit Kyoto in winter, you're going to need a wool or down coat, or some other kind of thick outerwear, gloves, and a scarf. Temperatures can drop suddenly on cloudy days or in the evening, so be sure to dress so that your legs and feet will be warm enough. It will be cold outside, but buildings, buses, and trains are heated, so wear something with layers that are easy to take off as needed.
Other items to bring with you: A scarf, gloves, knit hat or hand warmers to keep warm, and something to hydrate yourself with.
Kimono can be enjoyed in both summer and winter!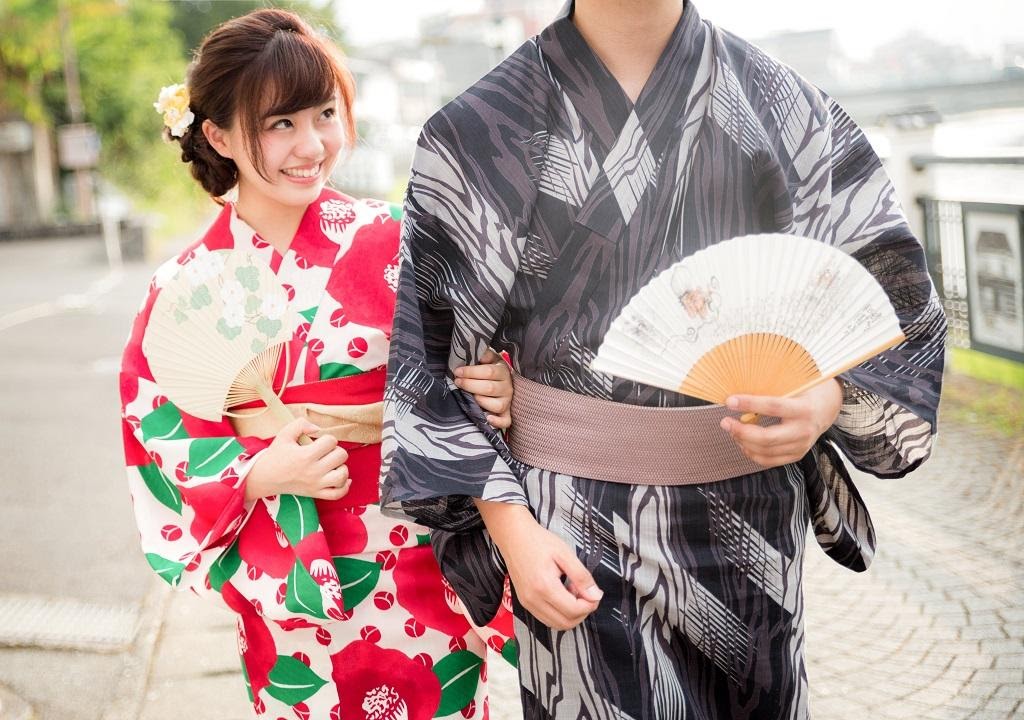 Wearing kimono in the summer heat
Yukata are thin, cotton kimono worn in summer. They're often worn as leisurewear in the summer to festivals and fireworks displays, and they're perfect for wearing around Kyoto! If you're going to wear a proper kimono in the summertime, it's most comfortable to wear one with a transparent top layer made from gauze.

Other items to bring with you: Fan, parasol, water, and other small items to help keep you cool.

Wearing kimono in the winter to keep out the cold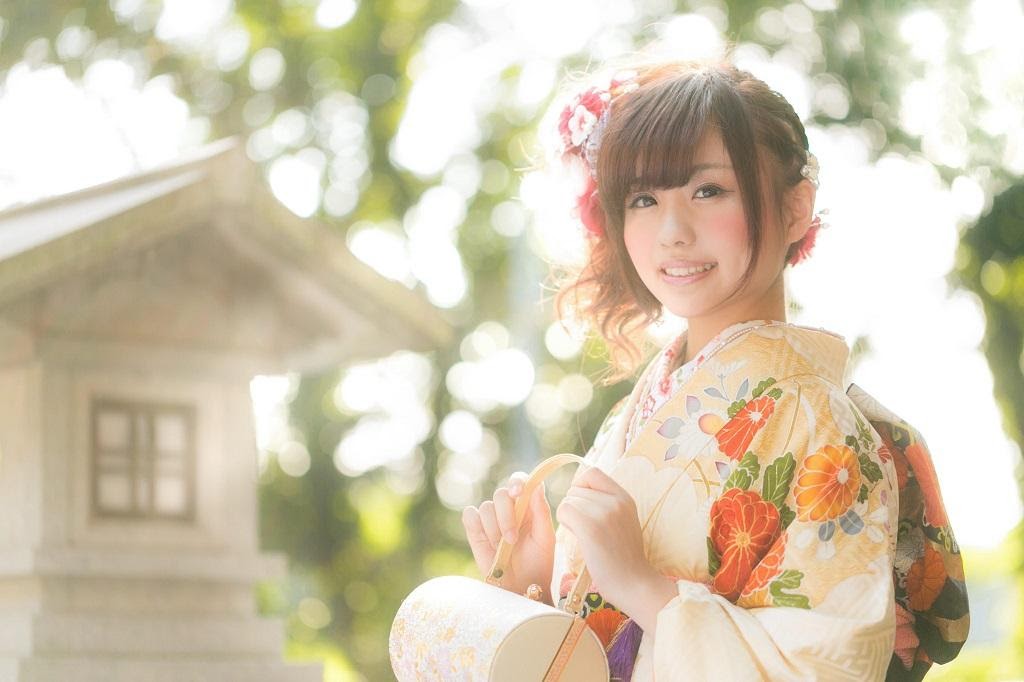 Kimono are worn slightly open at the collar at the back of the neck, so it's important to keep your upper body and the area around your neck warm with an insulating inner layer. Kimono are worn with tabi socks, so you won't be able to wear tights under them. It might be good to wear leggings, or other undergarments that leave the feet exposed, though.
For a fashionable look, some keep warm in a kimono by pairing it with a beret or boots. This kind of look is popular, and somewhat retro in Japan. It puts people in mind of styles in the 1920s that mixed kimono with Western accessories.
Many kimono shops also offer warm accessories like shawls and fur stoles, or special kimono overcoats for rent.
Related Articles